Who Are We?
Goolburri Healing & Wellbeing Service seeks to support the needs of all adults, young people and children from all cultural and social backgrounds. We use evidence based strategies to support people who are struggling with uncomfortable thoughts and feelings that impact their quality of life.
How Can We Help?
Goolburri Healing & Wellbeing Service recognises the importance of the support family and friends can provide during difficult times. We do not attempt to replace the support of these important people, but we can help you to discover different ways of looking at things and improve your wellbeing. By offering a non-judgmental, private and safe place to talk, we strive to support your journey in healing from:
Depression
Anxiety and Stress
Grief and loss
Adjusting to medical and physical conditions
Relationship problems
Trauma and Abuse
Sexual and gender identity crisis
Poor anger management
Domestic Violence
We also assess and provide reports on those seeking weight loss surgery, behaviour support, and cognitive functioning.
Our Healing & Wellbeing Workers
Our Healing & Wellbeing Workers provide holistic, culturally appropriate case work and aim to assist people to better manage a wide range of issues including grief & loss, depression, family and/or relationship matters, and any other issues which impact on their mental, social and emotional well-being.
Our Healing & Wellbeing Workers aim to:
Provide high quality support to individuals and their families.
Work collaboratively with internal and external organisations to ensure a coordinated approach to service intervention.
Undertake client support at other service locations if required.
Participate in case conferences and client care reviews if required.
Coordinate, source and/or deliver in healing activities for clients that strengthen cultural identities, individual capacity and community connections.
Your Business, Your Privacy...
Goolburri Healing & Wellbeing Service has an ethical obligation to safeguard the confidentiality of privileged information obtained during the provision of support. However, there may be times where disclosure of this information may occur, such as when:
Consent has been given by you or a person with legal authority to act on behalf of you
There is a legal obligation to do so
There is an immediate and specified risk of harm to an identifiable person or persons that can be  averted only by disclosing information
Consulting with colleagues provided that the client's identity is concealed and prior notice has been given
During the assessment process we will gather personal contact information and keep a record of this on file. You may ask to see this information at any time.
South West and the Darling Downs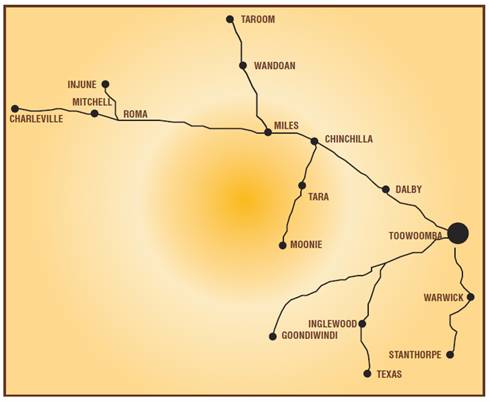 Goolburri's Healing & Wellbeing Service area includes Toowoomba, Southern and Western Downs and Southwest Queensland region.
Healing & Wellbeing Service Mission Statement
Goolburri Healing & Wellbeing Service acknowledges the importance of people's life stories and how people and events in these stories can have a positive and negative influence.
Our mission is to provide a quality service that helps you deal with those parts of your life story that have affected your wellbeing.
We will strive to help you find ways to heal, so that you are able to continue with your life journey, and to add to your life story.